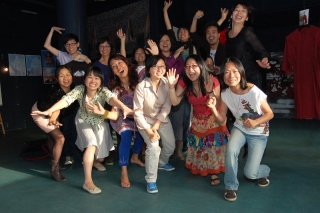 Studio Zi is een Chinese kunstenaarscollectief bestaande uit jonge kunstenaars met een Chinese achtergrond. De kunstenaars zijn of in Nederland geboren of in Nederland opgegroeid.
Het begrip kunstenaar wordt breed genomen, Studio Zi denkt bij kunstenaars aan beeldend kunstenaars, maar ook aan designers, fotografen, multi media designers en zelfs een architect. Hoewel ieder verschilt in zijn eigen vakgebied, hebben alle Zi'ers één ding gemeen, en dat is dat ze allemaal opgegroeid zijn met de Chinese tradities als eerste of tweede cultuur.
Studio Zi is te bezoeken aan de 1e Middellandsstraat 50. Voor meer informatie over dit collectief kunt u contact opnemen met Fenmei Hu, fenmei@gmail.com.